Activity | Mid-Autumn Festival Win The Zip Blind Box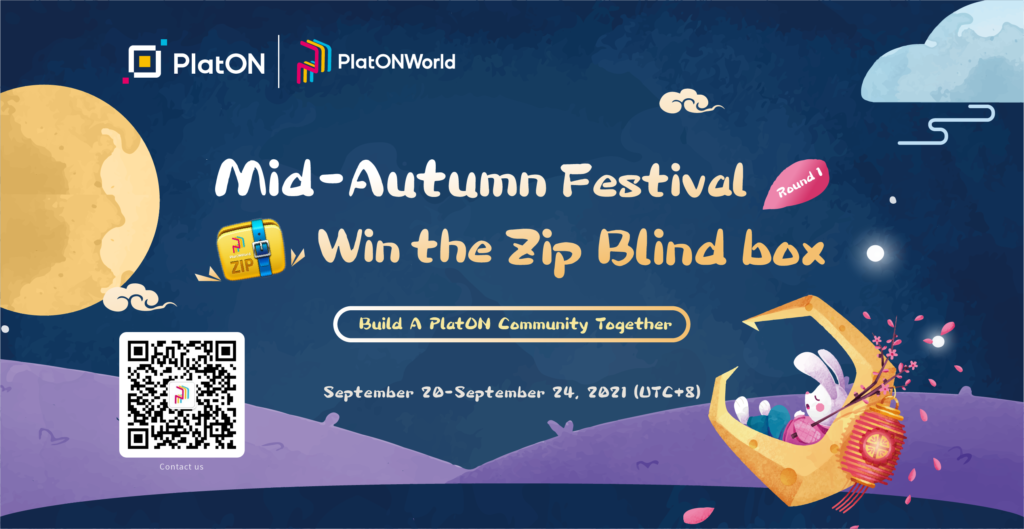 PlatONWorld as on of the ecological community members,actively participate in the ecological construction.On the occasion of the Mid-Autumn Festival, I hope to build a private community with all PlatON fans.
This event is conducted in the form of "Zip Blind Box". " The Zip Blind Box" is an encrypted Zip file. Each blind box has a .txt file filled with 1 LAT private key, and its corresponding address contains a random number of LAT, or 1 souvenir about PlatON. The key to open the blind box will be provided to the winners in the form of ① private message on the site and ② key combination.
Time: September 20 – 24, 2021 (UTC + 8), Totally 5 days
Reward:
"Zip Blind Box" rewards are divided into LAT rewards and PlatON's souvenir rewards;
LAT rewards up to 288.88 pieces,souvenir rewards are distributed randomly.
*Since the "Zip Blind Box" activity is conducted in an interactive way, we will publish the "Zip Blind Box" file on the site in advance. Users who have obtained the private key, please transfer it out as soon as possible.
---
Activity 1:Register to get a blind box
The activity content : During the event, register as a user of PlatONWorld.org ,then you will have the opportunity to get the "Zip Blind Box" reward.
Rules:
During the event, 10 lucky users are randomly selected from registered users every day to reward "Zip Blind Box";
We will send DM "ZipBlind Box" information to the lucky users in the form of private messages on the site;
During the event,every user only have on opportunity to win.
The number of reward: 50 lucky users
---
Activity 2:Finding clues to open the blind boxes
The activity content:
The activity content:Searching the private key clues to crack "ZIP blind box" From the articles on the PlatONWorld.org site, to win the blind box rewards.
Rules:
The user searches for clues on the PlatONWorld.org site by according to the officially announced "keywords of the day", and combines the correct cracking key according to the clues, Clue drop time is 10:00AM (UTC+8) daily;
The user can use the correct key to open the "Zip Blind Box". Obtain the private key and win the LAT reward;
If the blind box is not found that day, the official website will publish more clues the next day to help users continue to search for the blind box until it is found;
Once the user breaks the "zip blind box", please transfer the reward as soon as possible to avoid being transferred first by other users and missing the opportunity to receive the reward.
The number of reward: 5 Winner